Biscuits and Gravy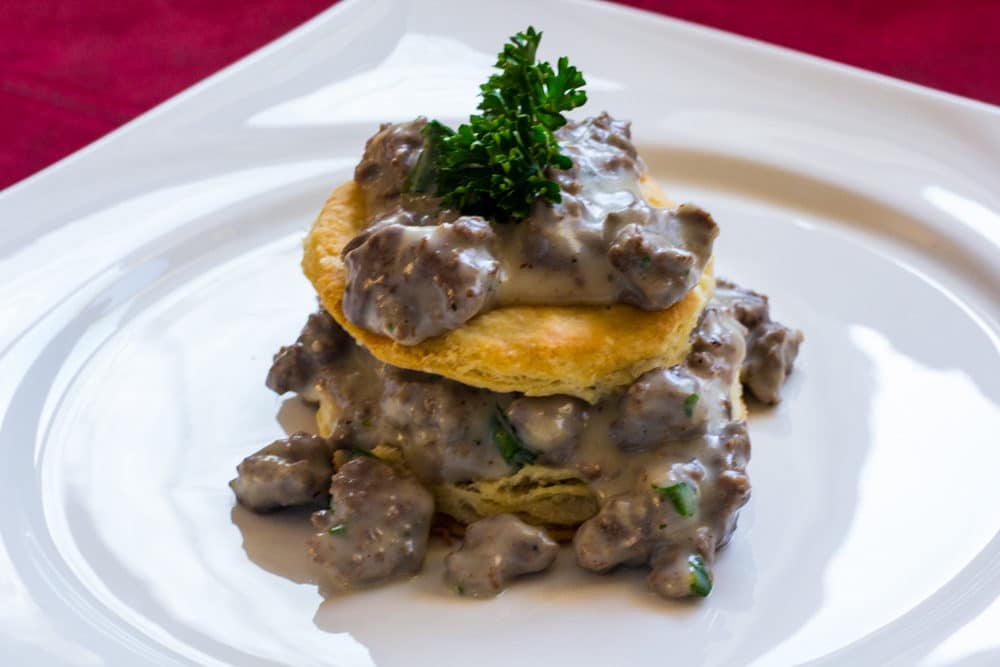 I remember when I was young not understanding at all, why anyone would want to eat biscuits and gravy for breakfast. It never smelled that good to me, and when I did try it the biscuits were dry and crumbly and the gravy tasted the way I imagined dog food to taste.
When I left home for the Navy I decided to give biscuits and gravy another try. The conclusion I came to was the US Navy does many things right, and biscuits and gravy wasn't one of those things.
I had pretty much written off the idea of ever enjoying biscuits and gravy until a few years ago. I was at my brother's house and he was making scratch biscuits along with some some gravy. Trying to hide my disappointment I gladly took a plate. I am a firm believer that if someone is going to make you food that you sit down and eat it. You then say thank you when you are done.
A Curious Surprise
My disappointment changed to curiosity after the first bite. These biscuits and gravy that my brother had made were not like anything I had ever had before.  I don't know what changed that day or what secret magic my brother had worked but I really liked that breakfast. The biscuits were light and flaky with a slightly crisp bottom. The gravy was meaty and not overly salty, I gladly accepted seconds and started brainstorming immediately how I could replicate this with wild game.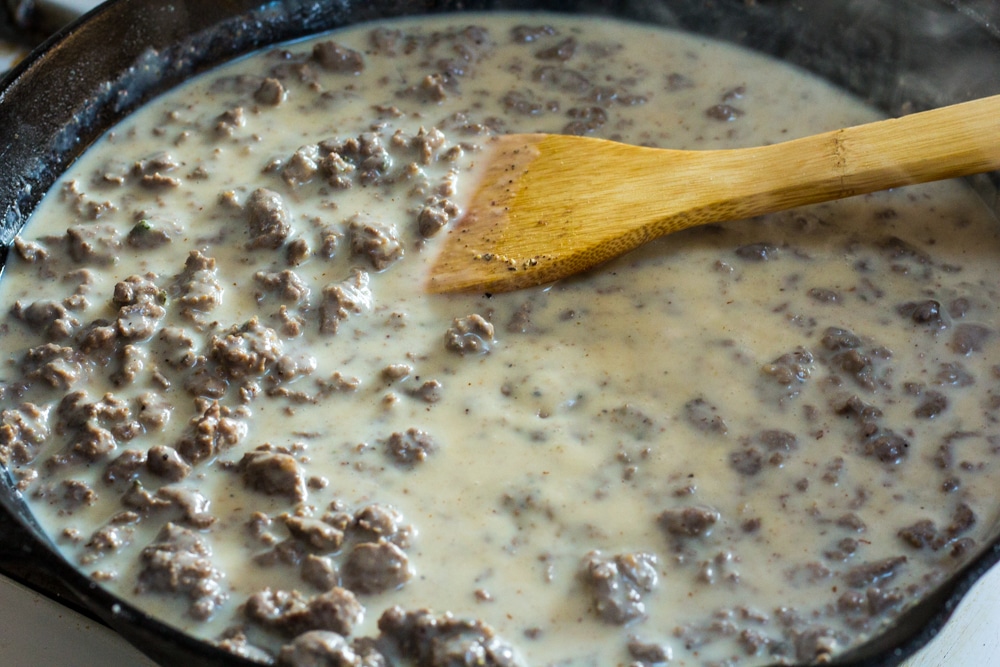 Trial and Retrial
My first attempt was with some antelope breakfast sausage I had made. The biscuits were good but the sausage I had made included a good amount of maple syrup in it. The extra sweetness didn't really work in the gravy. After that I tried an Italian sausage with venison. It was good but the sausage was a bit overpowering. I then tried a venison chorizo, and a juniper moose sausage as well, but still nothing really stood out to me as a great sausage gravy.
Damn Tasty
Depending on how successful my duck season is, I like to make a duck sausage with garlic and sage. It's a really nice blend of ingredients. Stuffed into a casing, I like to grill it and then serve it up with some kraut and spicy brown mustard. It's also a great bulk sausage and is one of the main ingredients in my duck and cornbread dressing. This year I was fortunate enough to make a five-pound batch, so I figured I should try it in the biscuits in gravy.
It was a match made in heaven, love at first site, soul mates, or whatever cliché you would like to use. It was damn tasty! The gravy was the perfect combo of duck, garlic and sage and was exactly what I was looking for. It is now, and will be in the future, the only sausage I will make with my biscuits and gravy. This probably means I need to start doing more duck hunting.
Here is the sausage recipe to get you started on your way to biscuits and gravy perfection.
Duck Sausage Biscuits and Gravy Recipe
Duck Sausage
3 ½ pounds of duck meat, cut into pieces that will fit into your grinder
1 ½ pounds of fatty pork, cut into pieces that will fit into your grinder
40 grams of kosher salt
¼ cup fresh sage
1 tsp fresh thyme
6-8 cloves of garlic, depending on how much garlic you prefer
1 tablespoon ground black pepper
1 cup red wine
Mix together all the ingredients minus the red wine. Feed through your grinder using a medium grinding plate. After grinding add the red wine and mix with your hands until the wine in absorbed. Package in one pound packs and use for stuffing or gravy or any other purpose you find.
Duck Gravy
1 pound Duck sausage
2 tablespoons unsalted butter
¼ cup all-purpose flour
2 cups milk
½ cup chopped parsley
Salt and pepper, to taste
In a large pan melt the butter and brown the sausage. When the sausage is cooked, add the flour and stir until the flour is all absorbed. Slowly pour in the milk and cook on low until the gravy thickens. Stir in the parsley and season to taste with salt and pepper.  Serve over your favorite biscuits. Here's a link to a simple recipe for buttermilk biscuits from our friends over at Taste Of Home.