Worth Remembering
The first time I made this dish was at my family's ice house on Mille Lacs Lake in central Minnesota. It's a popular walleye lake and the first place my dad allowed me to drink some champagne one fateful New Years Eve, but that is another story. Let's just say I ended up being the sole entertainment for the rest of the night. One thing I do remember is catching a lot of fish.
Several years later my friend and co-worker Ben and I were up at the ice house for an extended weekend. Our only goals were to have a little fun and maybe catch some fish. It was great to get away from the restaurant for a couple of days. Being the chefs that we were, the thought was to stop on the way up and buy a ton of ingredients we'd cook with over the weekend. No plan, no recipes. And before I give you the impression that we were only cooking fancy meals I'll share that there was definitely hot dogs and cheap whisky in our cart as we left the store.
Raiding The Freezer
I had raided my freezer earlier that week for some meat so we could save some money on the grocery run. One of the items that ended up coming with us was a package of pheasant breasts. The thinking was that it's versatile meat and it's relatively easy and quick to cook. It was perfect for the ice shack and we'd figure out some kind of recipe, right? As long as it fit on my grandpa's cast iron Griswold two-burner we were good.
Working Up An Appetite
The last evening our food supplies were getting a little tight and my buddy had plunged his leg into a fishing hole while we were ice golfing. This effectively ended the shenanigans. Luckily there was no shortage of liquid courage.
After a pit stop inside the ice shack he was as good as new, and hungry too. There were a few ingredients left to whip up dinner. The pheasant breasts were still in there, and they stood out like a beacon of hope. We pondered what would come next and then he asked me for a plastic bag. The next thing I knew we were back out in the cold and the pheasant breasts were being pounded thin with the ice as our countertop and my mini Kirby Puckett bat as the meat mallet. This is how our winter roulades were born.
This is an awesome preparation that can be filled with just about anything you can think of. The version we had that day on the ice involved apple, celery, carrot and onion because, as I said before, it was what we had left. The recipe here is equally as good as the first night I had this dish. If you don't have pheasant, try goose, turkey or duck. They will all work great. After you finish dinner make sure to raise a glass or sip some whiskey for Ben. If it wasn't for him this recipe would not exist.
Pheasant Roulade with Cilantro Chutney – Serves 4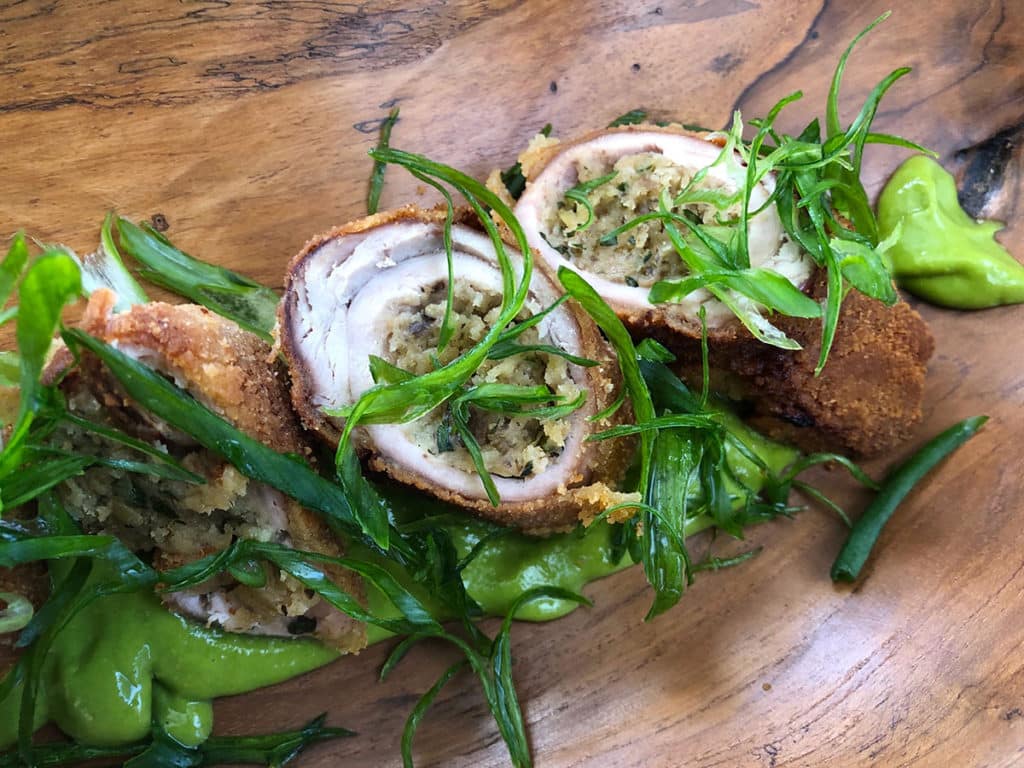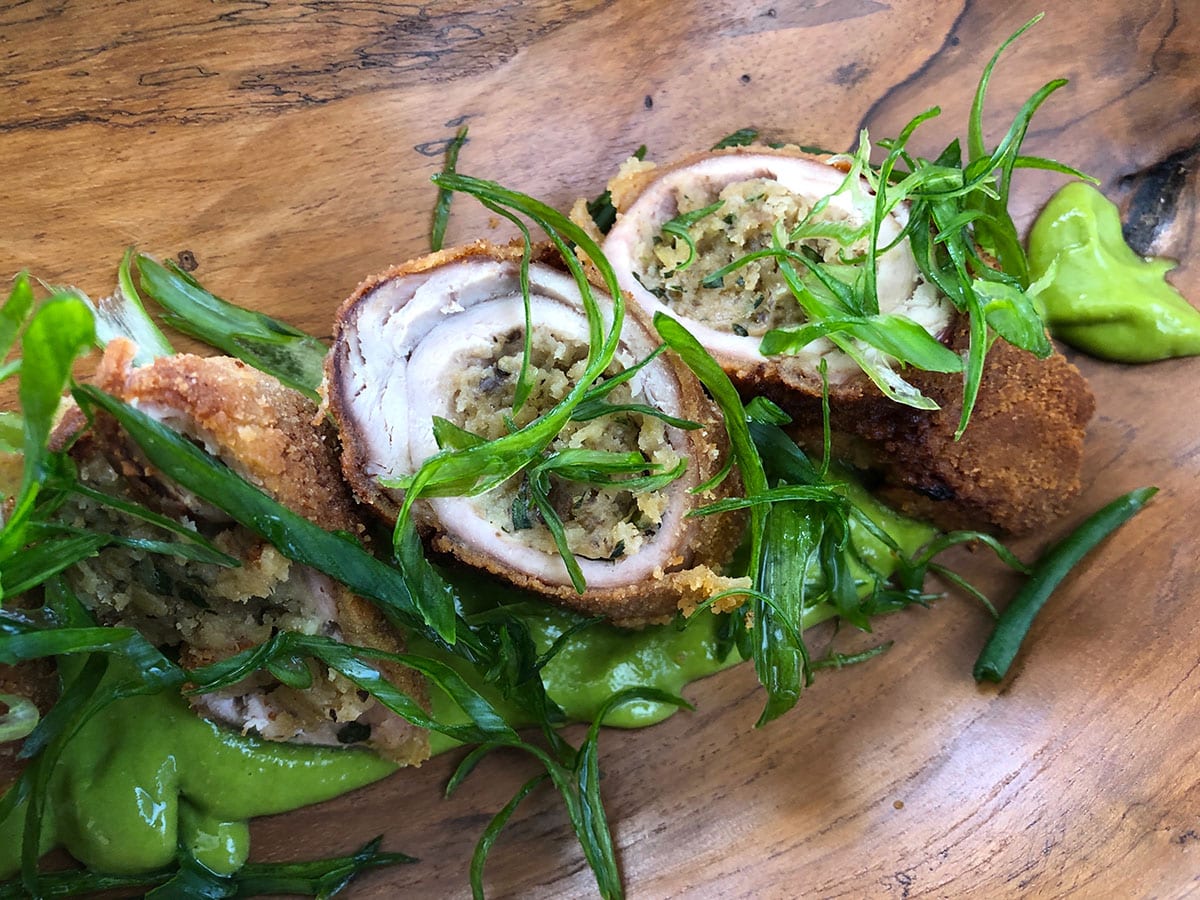 Ingredients
Six pheasant breasts boneless and skinless
4 tbsp unsalted butter
One bunch green onions
For the filling
1 pack crimini or button mushrooms
1 yellow onion
Three bulbs garlic
½ cup evoo
1 cup whole milk
Fresh thyme
Kosher salt
Cracked black pepper
¼ cup Italian parsley
Zest of one lemon
1 ½ cups bread crumbs or buzzed crackers
¼ cup grated parmesan
For the cilantro chutney
3 cups chopped cilantro
1 avocado
Juice of three limes
½ cup cold water to emulsify
2 tbsp white wine vinegar
Salt to taste
½ serrano pepper (optional)
For the breading
4 eggs beaten
1 cup flour seasoned with salt and pepper
1 cup finely buzzed Ritz crackers
Chanterelle powder (optional)
STEP 1
Cut the tops from the garlic bulbs, cut the onion into one inch chunks and half the mushrooms.
Place the garlic cut side down and add the onion and mushroom. Add the milk, olive oil, fresh
thyme and cover. Bake at 400 degrees for 90 minutes or until the liquid is mostly absorbed and
the garlic is browned and soft. Set aside and cool.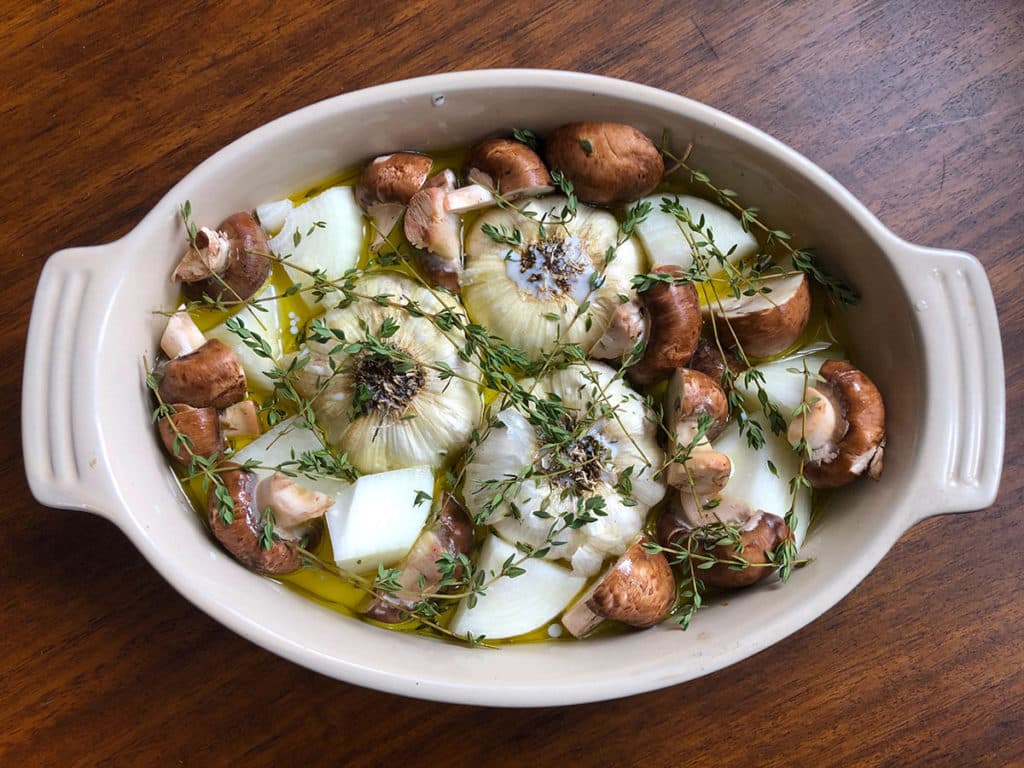 STEP 2
In a food processor or blender. Add all of the ingredients for the cilantro chutney and blend until
the sauce is very smooth. Keep the sauce cold. Slice your green onions, place them in cold
water and store them in a cool place.
STEP 3
Remove the vegetables, squeeze the garlic and strain any excess liquid. Add the roasted garlic, onion and mushroom to a food processor or blender. Puree until all ingredients are combined. In a mixing bowl add one cup of pureed mix (save the rest for crackers), the breadcrumbs, lemon zest, parmesan and parsley. Mix until combined and season to taste.
STEP 4
Place pheasant breasts in plastic zipper storage bag and pound them with a meat mallet. You are looking for about and ¼ inch (tip: any blunt object will do for your meat mallet, like a peanut butter jar or soup can). Add ¼ cup of filling at the end of the pounded breast, formed into a log equal to the width of the pounded breast and roll tightly. Season with mushroom powder.
STEP 5
Preheat your oven to 400 degrees. It's now time to bread the roulade. Have your breading station set up in the order of seasoned flour, beaten egg wash and bread crumbs. Keep one hand for dry dipping and one for wet. Roll the roulade in the seasoned flour. Transfer to the egg wash and then drain any excess liquid from the roulade. Lastly, roll in the bread crumbs.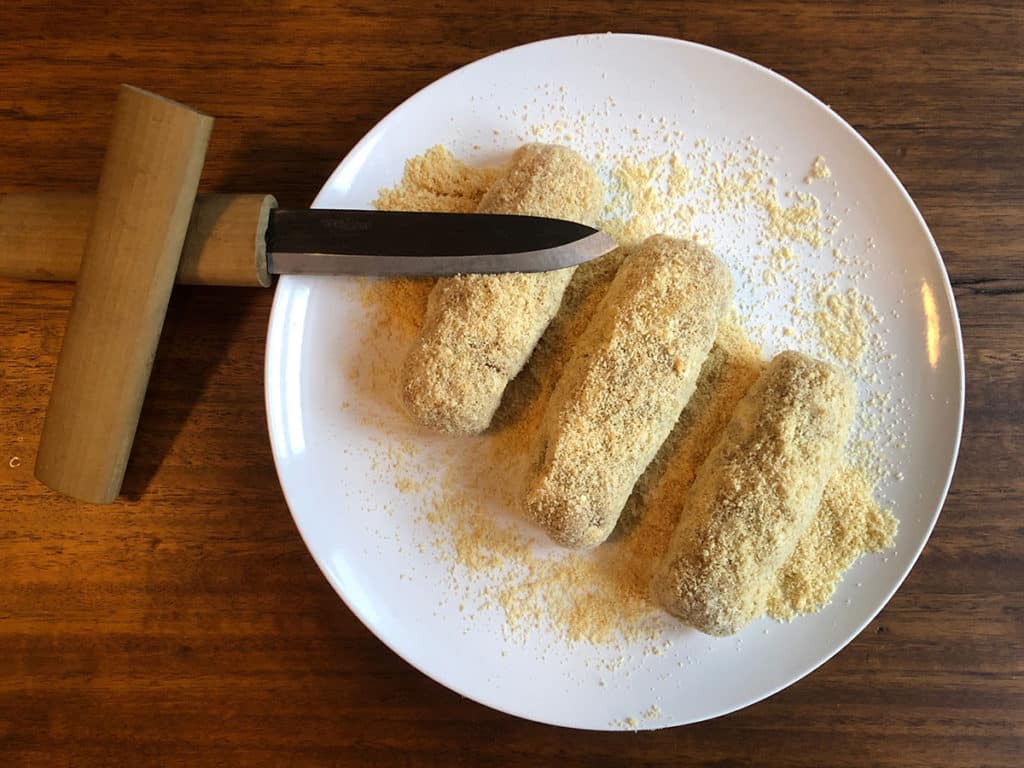 STEP 6
Heat butter in a cast iron pan over medium heat. Brown all sides of the roulade and place in a 400 degree oven for 15-20 minutes or until the internal temperature reaches 160.
STEP 7
Remove roulade and let rest for 1-2 minutes. To plate, lay the sauce down, slice the roulades into desired portions and place over sauce, finish with the green onion and feast!