The spring foraging season is finally underway here in Minnesota. Many people will be out in the woods looking for mushrooms or ramps. I will be looking for those as well but one of the first things I want to find is stinging nettles.
If you are anything like me, stinging nettles have probably been a problem for you all of your life. As a kid, there were nettles everywhere around my grandparent's place. No matter how hard I tried I always seemed to get into them. Before I knew it my legs and arms would be on fire.
I had no idea back then that nettles were actually edible. I am pretty sure had you tried to get me to eat them back then I would have protested with all my might. About ten years ago I tried them for the first time and was not impressed. To me, they tasted like grass and dirt. That might have just been the way they were prepared but I did not enjoy them.
It took a couple of years before I tried them again and when I did I had read a recipe for nettle pasta. It sounded different and the picture of the green pasta had me interested. I tried it and really loved the pasta. When I started looking around for more ways to use nettles I found out there are hundreds of ways to use them.
I have used nettles to make pesto, gnocchi, chimichurri sauce, tea, beer, and creamed nettles. They really are a very versatile plant and after doing a little research I found out that they are really good for you as well. A one cup serving of nettles has a large amount of potassium, vitamin A, calcium, and magnesium.
So how do you get stinging nettles into your food without being stung? The answer is gloves; you definitely want a good pair of gloves when you go pick your nettles. Nettles pretty much grow everywhere and most people who spend time in the outdoors know where to find them because they have gotten into them a time or two.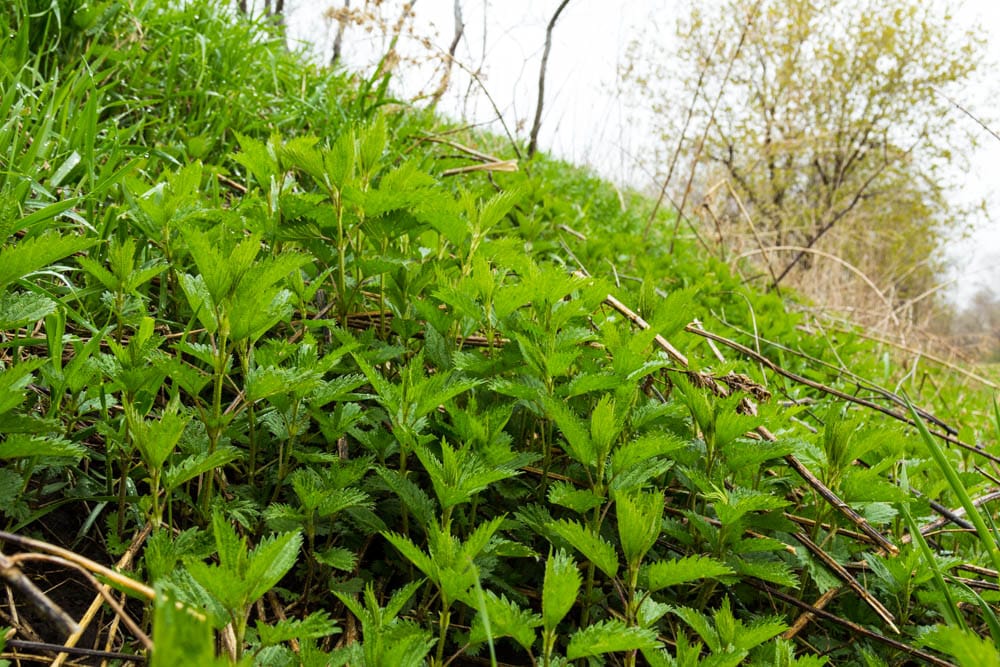 If you don't know where to find them start looking along ditches and open fields next to woods. You will almost certainly find them. In the early part of spring, they start pushing up before most anything else does. When they first shoot up out of the ground the stalks are still very tender. Nettle stalks become very woody when they get taller and are not good table fare. The very tops of the plant are the very best part and if you only pick the tops the rest of the plant will continue to grow and you will be able to come back year after year and find more in the same spot.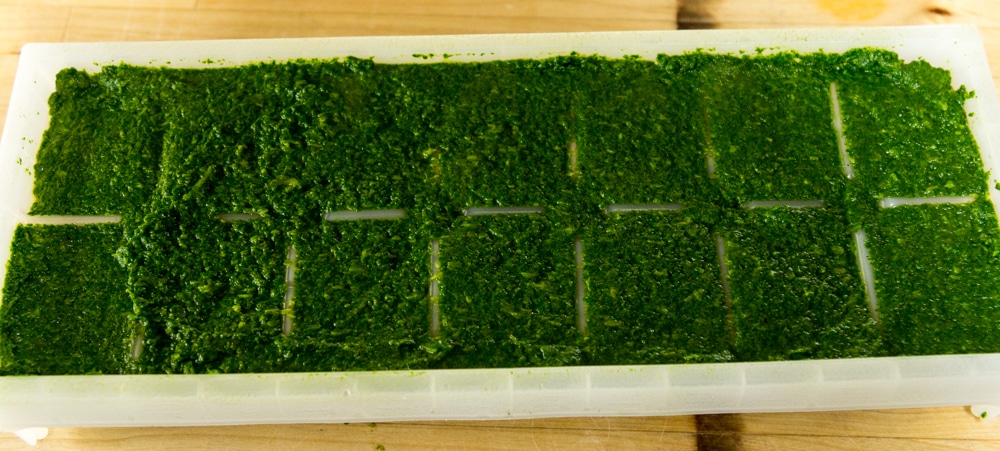 I like to keep nettles on hand all year so I can make pasta. The best way I have found to do that is to sauté the nettles and then puree them in a food processor. I like to pour the nettle puree into ice cube trays. I can then freeze them and vacuum seal 3 cubes in a pack for later use. Three cubes of nettle puree are about a half cup which is the right amount for most of the pasta recipes I use.
This year I have been playing around with different kinds of noodles. Earlier this spring I made an alkaline ramen noodle. I also made cold Soba noodles. Soba noodles are  Japanese and made with buckwheat flour and are usually served chilled with a soy dipping sauce. It was pretty amazing. I have included the recipe for the soba noodles and the regular pasta.
https://modcarn.com/hey-fiddlehead-get-greens/
To make the Nettle Puree
Pick one pound of stinging nettles. Wash them in the sink very well. I like to fill the sink with water and then pour all the nettles in and stir it around with a wooden spoon to get rid of any insects or dirt that might be hiding inside. Drain the nettles and then working in 4-ounce batches sauté the nettles with 2 tablespoons of butter per batch. When the nettles have wilted transfer them to a food processor and pulse until they are an even puree.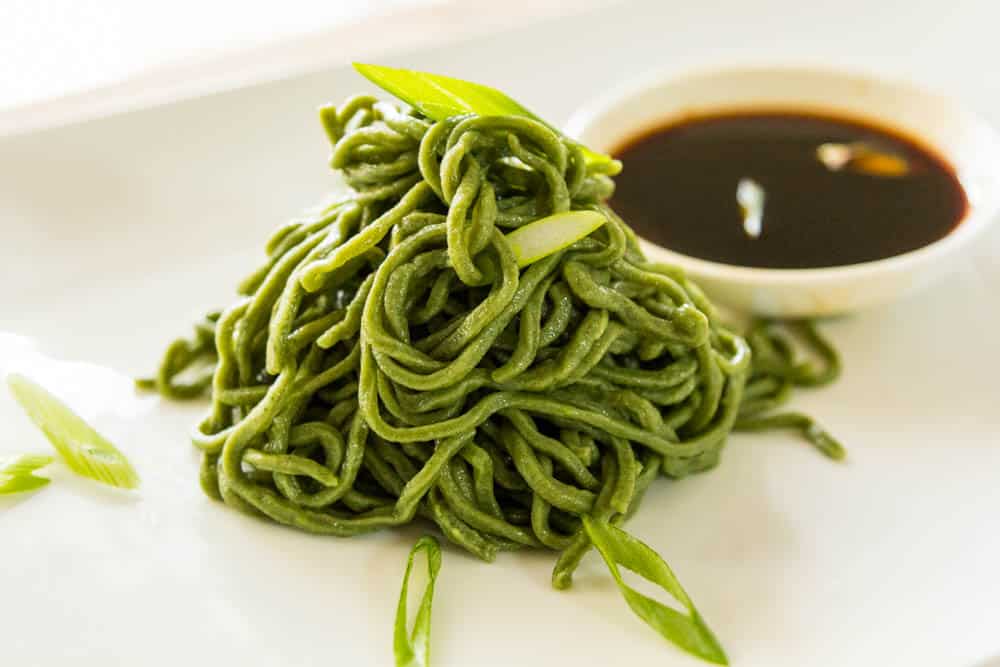 Cold Soba Nettle Noodles
2 cups Anson Mills Ni-Hachi Sobaka
½ cup nettle puree
4-6 ounces boiling water
In a food processor, combine the nettle puree and the soba flour pulse a couple of times then turn the food processor on and pour in the hot water very slowly. Add water just until the dough comes together into a large ball. Once it comes together take it out of the processor and work it on a hard surface dusted with more flour. Knead the dough for a couple of minutes then wrap it in plastic wrap and refrigerate for 30 minutes before use.  Using a pasta roller make your sheets of pasta dough first then feed the sheets into the cutter to make the noodles.
Nettle Pasta
This will make enough spaghetti for 2 large portions or 4 small portions
2 egg yolks
1/2 cup nettle puree
1 1/2 cups all-purpose flour
Pinch of salt
Make a mound of flour in the middle of a large surface and make a well in the middle. Stir the yolks and nettles together and pour into the well. Add the pinch of salt and then with your fingers start to stir the nettle puree into the flour. Work it all together until you get one ball of dough. If it is to dry add a few drops of water at a time until you get a dough with the consistency of Play-dough. Once you have reached this point the possibilities are endless. Using a pasta roller make your sheets of pasta dough first then feed the sheets into the cutter to make the noodles.