Chicken Of The Woods Tacos
I'm definitely not a master forager. However, I am able to identify 8-10 different mushrooms out in the wild. And I have had great success in finding certain kinds of mushrooms. "Chicken of the woods" (Laetiporus sulphureus) is one of them.
Chicken of the woods was the first mushroom I ever found on a foraging trip and ate afterwards. I was in High school at the time and was taking a class called Sportsmen's biology. It was one of those slacker electives that almost everyone I knew took during high school. We learned how to tie flies, shoot bows, butcher deer and find mushrooms.
It Must Taste Like…
Mr. Ondler was our teacher and on one of our outings he pointed out a chicken of the woods mushroom. It was growing on an old dead oak and when he told us that it was edible, and that it tasted like chicken, we had to know more. We cut it off the tree and took it back to our class room where we fried it in butter with a little Lowry's seasoned salt. I've been hooked on them ever since.
Flash forward a number of years to the house I live in now. One day during our first year of owning the house I was sitting in my backyard and noticed my neighbor's willow tree. I noticed that it had a giant chicken of the woods growing on it. I immediately went over to my neighbor and asked if I could cut it off. Years later he sold the house and of course I immediately went over and introduced myself to the new owner, for obvious reasons. So for the last eight years I have been making foraging trips once a year to my neighbor's yard. Every year that giant willow tree puts off enough chicken of the woods to keep me well-supplied.
This Year's Crop
Last week I was in the backyard and noticed the familiar orange and yellow starting to show through on the neighbor's willow tree.  I went over to investigate and found about 8 pounds of mushrooms. In the past I have pickled these mushrooms to preserve them but I have a new dehydrator at home so I thought I would put it to use. I fried some in butter the first night and then thought about trying tacos.
In the past I have made tacos with hen of the woods mushrooms, and so I was thinking these chicken of the woods would probably make a great taco as well. I wasn't off base. They were wonderful.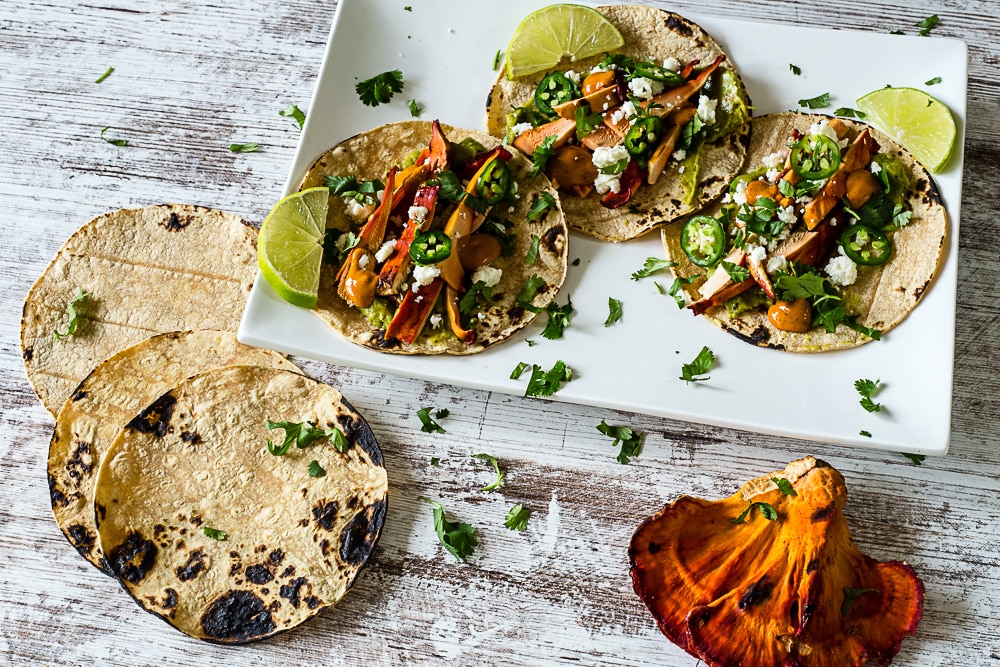 Chicken of the Woods Tacos
(IMPORTANT: only pick wild mushrooms when you have learned how to properly identify them. Do not pick or eat wild mushrooms unless you are confident that they are safe for human consumption.)
1 pound of chicken of the woods
1 quart chicken stock
4-5 sprigs of thyme
1 sprig of rosemary
2 cloves of garlic
1 tablespoon Montana Mex Jalapeno seasoning
Clean the mushrooms and make sure there are no worms, twigs or debris present in them. Place all the ingredients in a stock pot and simmer the mushrooms for 15 minutes. After that you can throw the mushrooms on a hot grill and give them a little char (about two minutes on each side). Slice the mushrooms into 1/4 inch strips. Taste the mushrooms and season with salt and pepper.
To serve, prepare all of your favorite taco fixings and go to town. I like to keep these simple with a little Cotija cheese, fresh cilantro, fresh jalapeno, lime and salsa.
More Delicious Modern Carnivore Recipes!!