The Elusive Wild Turkey
For the past three years my buddy Jeremy and I have been trying to kill a wild turkey. Jeremy has sent me dozens of pictures of turkeys in and around his small farm in southern Minnesota. We have tried spring turkeys, we have tried fall turkeys and have always come up short.
This spring we had several hens within shotgun range but couldn't get the big tom that hovered nearby any closer than 60 yards. The spring before that we had a nice 30-minute conversation with another tom (an adult male wild turkey) that was hung up at 80 yards but he wouldn't come any closer. I was starting to think we were never going to close the deal on a wild turkey…and then we went squirrel hunting.
The Hunting Paradox
A couple of weeks ago we headed out to try and arrow a deer and while we were out saw dozens of squirrels. If you've read other posts of mine then you know that I love squirrels. No matter how hard I tried I couldn't get these squirrels out of my mind. So, when we both had our next day off, I was focused on getting one or two of those little furry critters. We headed out on an incredibly windy morning hoping to see some big fox squirrels we had seen the week before.
On hunts when I carry my bow I tend to see tons of squirrels, and when I bring my shotgun I inevitably see deer that I could shoot with my bow. On this day we hadn't even made it 40 yards into the woods with our shotguns and a big doe was blowing at us. After sitting for a while we saw no squirrels, so we decided to move.
As we neared the crest of a steep hill a driving wind out of the northwest hit us in the face. The other thing that struck us was the sight of a rafter of turkeys just across the way. There must have been 15 or so just sitting there sheltering themselves from the wind. They had no idea we were there and we were able to crawl to a distance of about 20 yards from them.
When we got into position I picked out one of the bigger hens and took my shot. Immediately the birds scattered and went in every direction. One of the birds decided that the best plan was to fly to a tree branch that was directly above us. Jeremy took his shot and dropped that bird to the ground just a few feet away. And just like that our three year dry-spell chasing turkeys was over and we had doubled up on a couple of fall hens.
Field Preparation
Our squirrel hunt quickly transformed into a morning of cleaning these large birds. For me plucking a turkey isn't worth the end result. The skin on most turkeys is very delicate and rips very easily. If I were to be cooking the bird whole I might consider plucking it but cooking a wild turkey whole is a very difficult thing to do. For that reason I like to skin the bird whole and then break it down from there into usable portions.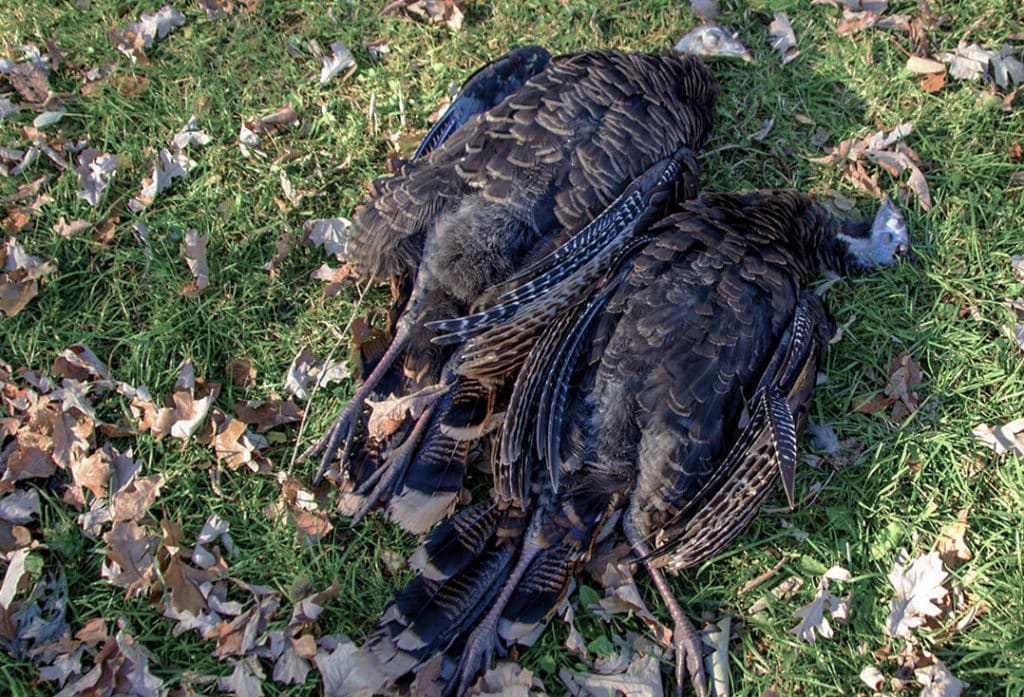 The way I see it there are three groupings of turkey portions: the breasts, the legs/thighs/wings and the carcass. The breasts are everyone's favorite; they can be grilled, seared, schnitzeled or cooked it any number of different ways. I package the legs, thighs and wings together because there is a respectable amount of meat on them but it can be tough, so you need to cook it on low for a long time. It is, in my opinion some of the best meat out there and makes great stews, enchiladas or confit. Then there is the carcass. When roasted and used to make stock it gives you one more element of wild food to use for soups or risotto.
While out hunting with Jeremy we came across an apple tree that was dropping some of the biggest most beautifully red apples I have ever seen. I was kicking myself when I got home because I wanted to incorporate apples into this dish, but had forgotten to grab one of them (however, store-bought will work too). Jeremy also sent me home with some acorn squash that I thought would go well with the bird.
The best way to use these ingredients is to make a fall themed wild rice bowl. The flavors of fall all mix well and are bound together with a fantastic highbush cranberry pan sauce (also recently used in a duck breast recipe). You can grill or pan sear the turkey breast which ever you like. I seared the breast in a pan and then roasted it in the oven until it reached an internal temp of 165 degrees.
Wild Rice and Wild Turkey bowl Recipe

1 large wild turkey breast, cooked and sliced about a ¼ of an inch thick
1 acorn squash, roasted and cubed into bite-sized pieces
1 apple, peeled and diced
2 cups cooked wild rice
½ cup chopped hazelnuts
Sun flower sprouts
5 tablespoons butter
½ cup wild turkey stock, or store-bought turkey stock
2 heaping tablespoons Highbush cranberry jelly (you can substitute red currant jelly)
1 small shallot, finely diced
To make the sauce, melt one tablespoon of butter in a pan over medium heat. Add the finely diced shallots and cook until soft and translucent. Pour in the stock and spoon in the jelly. Stir to combine and continue heating until the stock reduces down to a couple tablespoons. Remove from the heat and whisk in chunks of cold butter one tablespoon at a time until all the butter is mixed in. taste and season with salt and pepper as needed.
To Assemble the Bowl
Pile about ½ cup of cooked wild rice in the bottom of a bowl, arrange the meat, squash, apples and sprouts in the bowl then spoon on a generous amount of the sauce. Sprinkle some chopped hazelnuts over the top and serve. This will make 4 bowls.