Duck Season Is Here
The Minnesota duck hunting season opened up this past weekend and I missed it. There was a time in my life when I wouldn't have missed it for anything in the world. Unfortunately times change and responsibilities had me in places other than in a swamp.
I may not have been able to make it out for the opener but ducks were still on my mind. I had a big fat mallard still in the freezer from last year and a craving for some crispy duck skin. So, I took some time away from responsibilities this weekend to enjoy a tasty meal of pan-seared duck breast.
A Coincidence?
Getting the skin crispy on a duck isn't the easiest thing to do. It takes a little hard work and some patience. First you need to leave the skin on the duck, and that requires plucking the whole bird. If you're really good at it you can pluck a duck in the time it will take you to drink a beer. If you have a full limit of ducks (which is six in Minnesota) it will take you about a six pack. I'm not sure if that's a coincidence but I like to think it's not.
Second you will need a heavy pan set over medium-low heat. To get a good crispy skin you need to render the fat out of the skin and if you try to rush the process you'll end up with over-cooked meat and rubbery skin. Neither of these add up to a delicious meal.
Last you will need a bright slightly sweet and salty sauce to accompany your duck. I chose to use some highbush cranberry jelly that Mark and I made a couple weeks ago. It made a silky and flavorful pan sauce that went brilliantly with my duck.
The Process
To make the duck breasts you need to score the skin of the bird. Using a very sharp knife make a few cross cuts just through the skin of the duck breast. Season the breast with a generous amount of salt and pepper and heat your heavy-bottomed pan over medium-low heat.
Place the duck breasts skin side down in a dry pan. As the duck cooks the fat will render out of the skin and there will be plenty fat in the pan for the second step of the process. Let the breasts cook for about five minutes before checking them. If the skin is nice and crisp you can flip the breasts over and cook for two additional minutes on the other side. (If the skin isn't crisp yet give it a couple more minutes, but watch them carefully.)
After you finish cooking the the duck breast on the second side remove them and place each breast on a cutting board, but don't slice into them just yet! They need to rest for a few minutes. In the meantime move on to your sauce.
In the meantime you can turn to the sauce for your duck breast. Turn the heat up to medium high with the fat that remains in the pan and add about 2 tablespoons of minced shallots and one clove of minced garlic. Stir for a minute to soften the shallots, then deglaze the pan with ¼ cup of red wine. Add ½ cup of duck stock, or chicken stock if duck isn't available. Stir in a couple tablespoons of jelly. Any kind of jelly will work and you could even use honey if you don't have jelly. I used the highbush cranberry jelly because it has a slight tartness that helps balance its sweetness.
Bring all ingredients to a boil and reduce by half. When the sauce is reduced, turn off the heat and stir in 3 tablespoons of cold unsalted butter. Taste and adjust seasoning if needed.
Trust me when I say that perfectly crisp duck skin will make you forget all about the time you spent plucking the birds. And if it doesn't, the beers will help.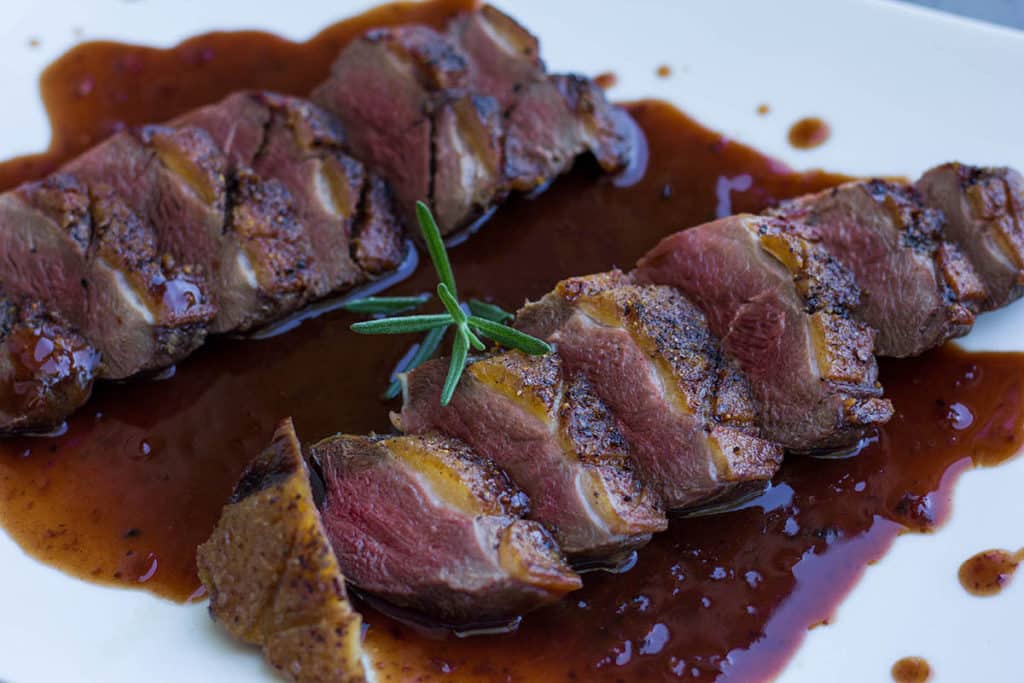 Pan Sauce For The Duck Breast
Pan drippings from seared duck
2 tablespoons minced shallots
1 clove garlic, minced
¼ cup red wine
½ cup duck stock, (or chicken stock)
2 tablespoons highbush cranberry jelly, (or substitute any other jelly)
3 tablespoons cold unsalted butter