Braised Pheasant Ragu
I've always loved bird hunting, especially ruffed grouse. For some reason going after pheasants hadn't interested me until a few years ago. I used pheasant when I was cooking professionally all the time even though the colorful bird wasn't part of my hunting repertoire. It was a great way to introduce folks to the notion of wild game and what it could become. The difference though was these pheasants were the size of chickens and raised on feed at a bird farm, far from what the real "wild" thing looked and tasted like. I changed the minds of a lot of non-hunters and watched their opinions on hunting and wild game transform with each bite from pheasant to venison. I soon found that the real thing was so much better. This braised pheasant ragu is one of those dishes that can change people's minds.
One Pot Meals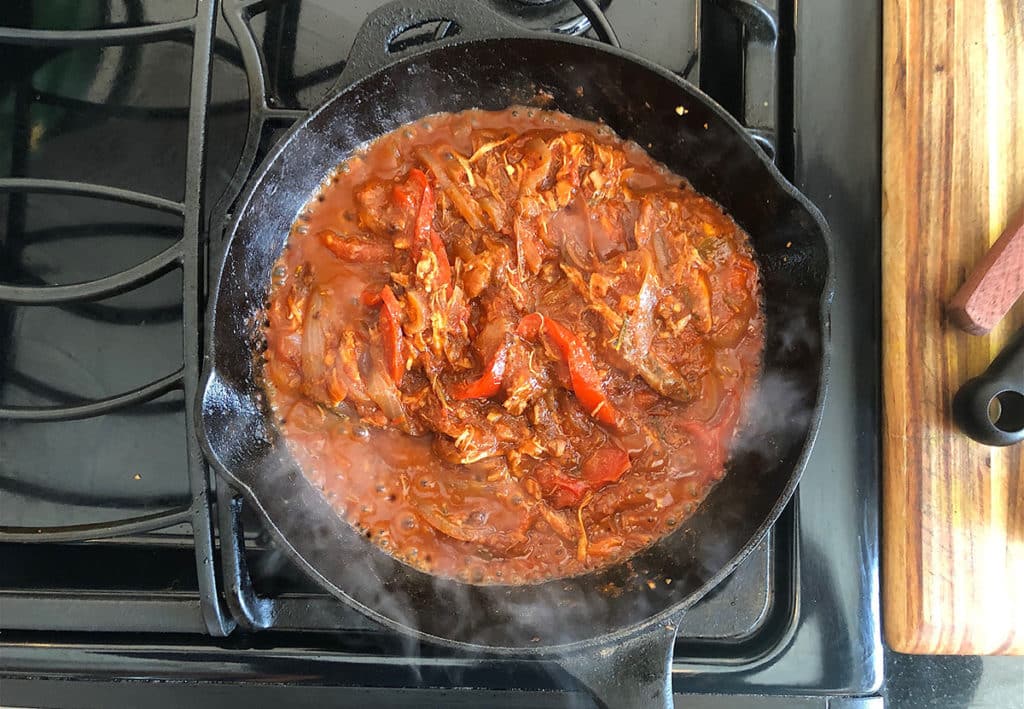 Italian food is a great vessel for wild game and the translation of unique flavors that wild game and foraged ingredients bring to a dish. Pasta is one those vessels and at the top of my list for one pot meals. The options are endless, the flavor profiles move with the seasons and one single recipe can morph into whatever you like. That is the beauty of ragu. It is a savory tomato based dish that can be made with any meat that you can think of, if you're willing to try it.
The Whole Bird
I love this braised pheasant ragu because most of the ingredients are pantry staples or easy to come by and it uses the entire pheasant. One of the most disappointing things that I see a hunter do after a long day in the field is breast out the bird, tossing perfectly good meat, bones and feathers away. What a travesty. There's so much more that you can do with those parts of the bird that are commonly discarded. The carcass can be saved for stock, legs and thighs into countless dishes, giblets can be cooked, wings for dog training and feathers taken for fly tying.
For our part, the pheasant gets quartered, part of the process for a classic fried chicken recipe. Leaving the bone in on the pheasant adds depth and flavor to the dish. During this process you end up with some scrap pieces that once roasted and accompanied by some vegetables and herbs, make a wonderful stock that adds flavor to any dish. If you don't make the pheasant stock, no worries, chicken stock is a great substitute, or maybe you have some other game stock floating around in the freezer.
Bringing The Flavors Together
The magic happens once all of the ingredients have come together. The ragu gets covered and left in the oven to braise, slightly reducing and concentrating flavors. Braising is a classic form of cooking that lends itself to countless preparations, and it's really quite simple. Almost cover the meat in your preferred liquid, bring to a simmer, cover and cook at a low temperature until the meat is juicy and tender. Also, try to do this dish ahead of time. Allowing stews, sauces, roasts and soups to cool overnight lets the flavor develop and the fats to be reabsorbed into the meat. I'm a firm believer that these types of dishes are always better the next day.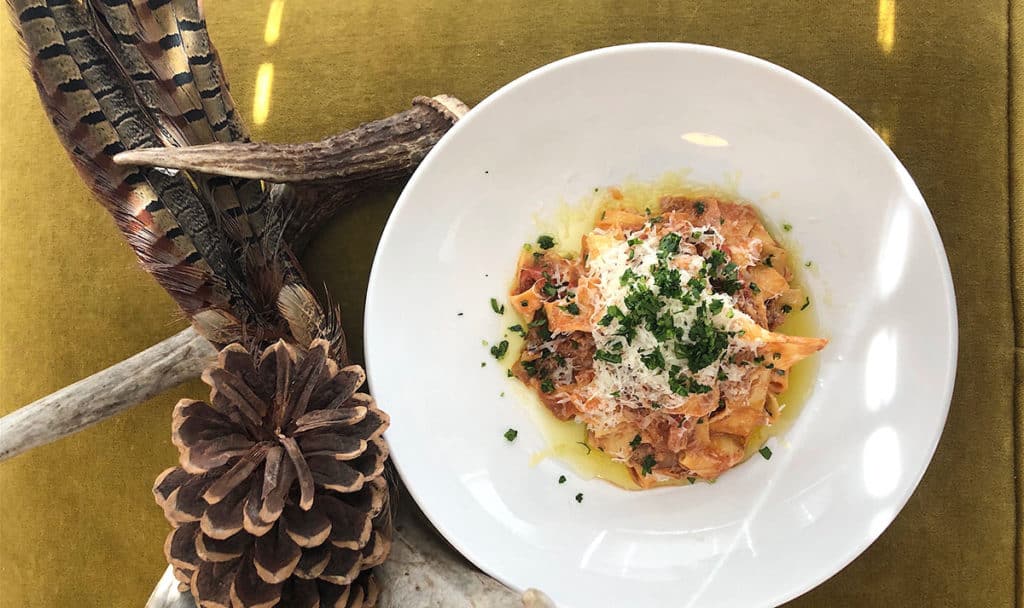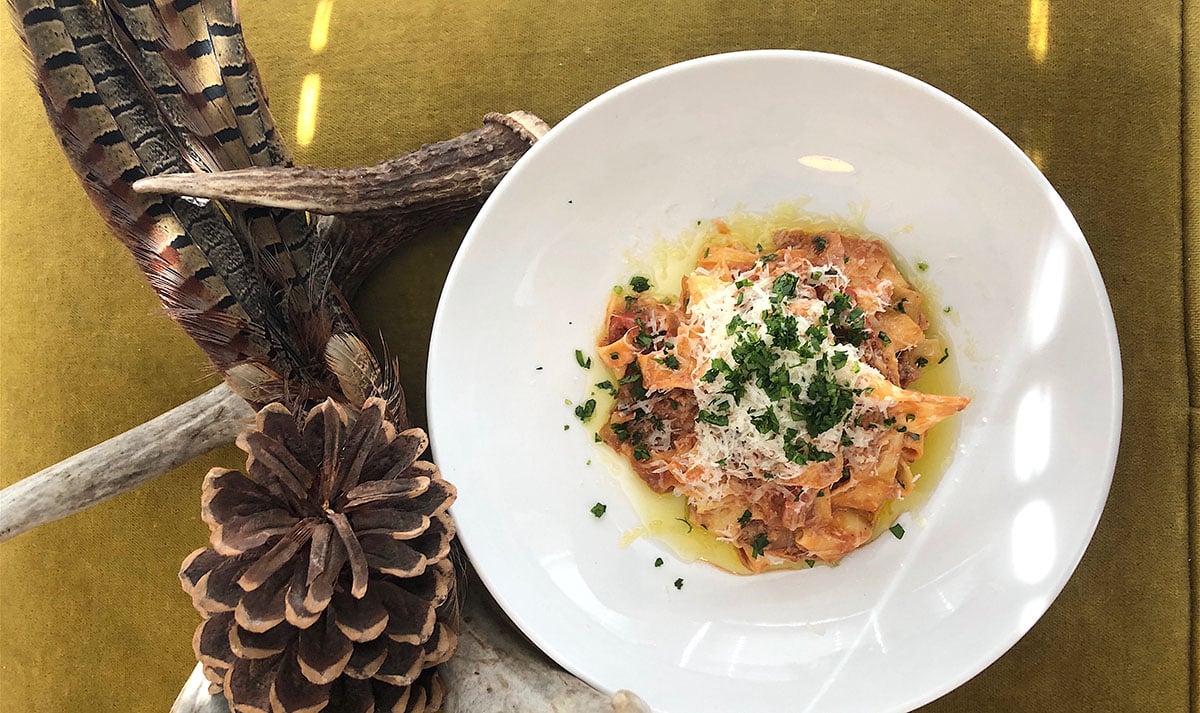 Pappardelle With Braised Pheasant Ragu And Goat Cheese – Serves 4
Ingredients
1 whole pheasant quartered – bone-in and skin on if possible
16 ounces of dried or fresh pappardelle noodles
1 28 oz. can crushed tomato – pureed
¾ cup balsamic vinegar
¾ cup red wine – good enough to drink
2 cups pheasant stock (optional) – chicken stock is an easy substitute
1 bulb garlic chopped fine
1 large yellow onion sliced into ¼ inch pieces
1 large red pepper sliced into ¼ inch pieces
Fresh rosemary – 3-5 sprigs
3 bay leaves
Crushed red pepper (optional)
Kosher salt
Cracked black pepper
Grated parmesan cheese
Goat cheese – 4 oz. log or crumbles
Fresh herbs to finish such as parsley and basil
2 tbsp. vegetable or canola oil
Extra virgin olive oil to finish
2 tbsp. butter
STEP 1 – Braised Pheasant Ragu
Begin by quartering your bird and preparing your vegetables. It's very important with pasta sauces, stews and soups that you have all of your ingredients ready and accessible. Preheat your oven to 350 degrees.
STEP 2 – Braised Pheasant Ragu
Once your ingredients are ready, heat the vegetable oil on high in a dutch oven or deep pan that can be covered. You want the oil to just begin to smoke. This will ensure a beautiful sear on the meat. Lightly season the pheasant pieces with salt and lay in the oil skin side down. Make sure that they are not touching each other in the pan. This will allow the pieces to brown evenly. Let the meat sear on its own until it is golden. Flip the pheasant and repeat.
This is where things begin to move fast and why your ingredients should be ready. Remove the pheasant from the pan and add the red peppers, yellow onion and ¾ of the garlic. Season with salt, black pepper and crushed red pepper. Let the veggies cook until the onions are lightly caramelized, making sure to stir regularly so that nothing burns. Add the bay leaf and rosemary.
STEP 3 – Braised Pheasant Ragu
It's now time to begin adding the liquids to the pan. Turn the heat down to a medium high. Nestle the meat back into the pan, pushing the pieces into the vegetables. You want as much contact with the liquids as possible. Each liquid should reduce by at least half before the next is added. Begin by adding the vinegar and cook for 3-5 minutes. Next comes the red wine, cook for 3-5 minutes. Third is the stock. Lightly season and cook for 5-10 minutes or until reduced by half. Lastly add the pureed tomato. Stir to combine the tomato, lightly season again with salt and pepper. Bring the sauce to a simmer. Cover and place in the oven for 1 ½ – 2 hours or until the meat is tender and falling apart from the bone.
STEP 4 – Braised Pheasant Ragu
Once the sauce is cooled remove the pheasant pieces and pull the meat from the bones. Take your time and watch for bones. Be careful with the legs to avoid adding unwanted tendons to your dish.  Add your pulled meat to the sauce after a careful inspection.
STEP 5 – Braised Pheasant Ragu
It's now time to serve the pasta. Bring a pot of water to a boil. Season lightly with salt. In a large sauté pan or cast iron add butter and the remaining garlic. Cook until the garlic is just golden. Add in the sauce and bring to a simmer. Check for seasoning. Boil your pasta to desired tenderness, strain and then add to the sauce along with a touch of the pasta water. This will help the sauce stick to the noodles. At this point add the goat cheese and lightly stir to incorporate into the sauce. Plate and finish with the olive oil, freshly grated parmesan and herbs.