Squirrel Ballotine
I have been saying for a very long time how much I enjoy squirrel hunting. It is one of my favorite activities and has become even more enjoyable now that my kids are starting to get into it. Last year I was able to take both my son and daughter out. This year only Charlie (my son) was interested in waking up early and heading out into the woods.
I've always enjoyed hunting but only now, after hunting with Charlie do I really understand how enjoyable hunting can be. He has an excitement and wonder about everything. It's beautiful, even though most of our hunts only last about an hour or two before he wants to go home.
On our first hunt this year we only managed one squirrel, but we did find a nice chicken of the woods mushroom that morning as well. In Charlie's words, "Well that was a productive hunt".
(Recipe for Chicken Of The Woods Tacos)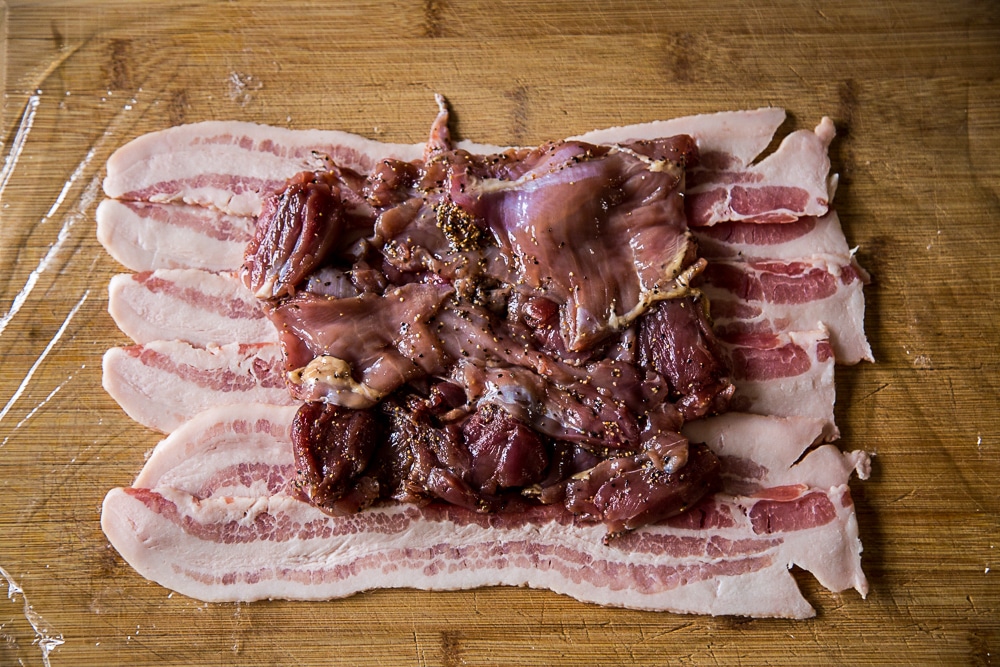 Feeding The Family
Since we only had the one squirrel I was hoping to do something special with it. Unfortunately one squirrel isn't enough to feed the whole family, but luckily I had another squirrel in the freezer. An idea came to mind.
I had been looking through some of my cookbooks trying to find something fun. In Tom Colicchio's book The Craft of Cooking he has a recipe for a rabbit Ballotine. A Ballotine is boned meat, poultry, or fish that is stuffed with seasoned meats or vegetables, rolled and tied into a log, and then roasted or braised.
It seemed like a stretch to use squirrel instead of rabbit but I am always up for a challenge. I know the idea of deboning a squirrel doesn't sound like a lot of fun but I assure you it is a lot easier than you think. With two squirrels I was able to get almost a pound of meat off the bone. That would be more than enough to make two Ballotines and would in fact feed the whole family.
The whole dish was surprisingly simple to put together. In hindsight I wish I would have trussed the Ballotines with butchers twine. As the Ballotines cooked, the bacon started to unravel, but the final product was absolutely delicious. Everybody enjoyed the meal, especially my son because he single-handedly fed our family.
(Watch video of Jamie taking Becca on her first hunt for squirrels)
Squirrel Ballotine Recipe
2 squirrels, deboned (about one pound of squirrel meat)
1/2 pound sausage, (Italian or breakfast sausage would work great)
1 pound of bacon
salt and pepper
Using a knife, cut away as much meat as possible from the squirrels. Try to keep the pieces of meat as big as possible. The hind legs are the easiest – debone and then cut in half. You're looking for big pieces of meat to lay flat on your bacon.
Lay out a piece of plastic wrap. On the plastic wrap lay out 6 pieces of bacon so they slightly overlap each other. Season the squirrel meat with salt and pepper and then lay it out on top of the bacon. Take your sausage and lay it in the center of the squirrel. Using the plastic wrap roll the bacon over and tighten it up into a log.
At this point I placed each ballotine into a vacuum bag and then cooked it in the sous vide for 4 hours at 165 degrees. If you don't have a sous vide you could remove the plastic wrap and then tie it up with butchers twine and roast it in the oven until it reaches 165 degrees on the inside.
Slice into 1 inch pieces and serve.