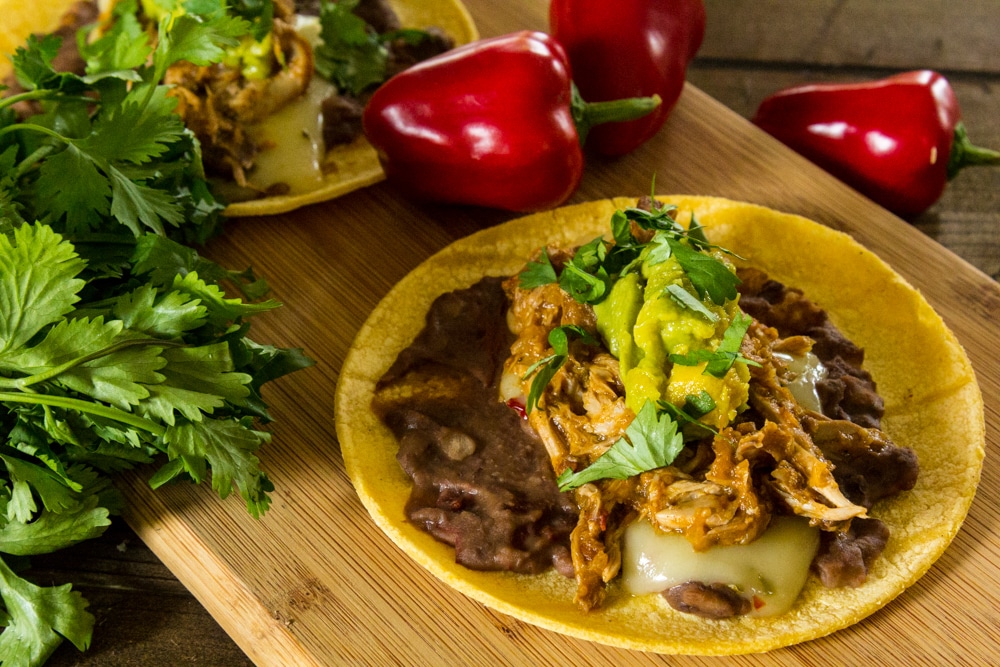 Squirrel Tinga Tacos Recipe
The fall hunting season in finally upon us. Those of us in Minnesota have been looking forward to this time, like many others across the country. Unlike many others though, my first hunt of the season will not be for antelope, or elk, or even deer. My first hunt of the year, just like the last ten years, will be for squirrels.
Squirrel hunting has become one of my favorite fall activities. The main reason I love it so much has to do with accessibility. I don't need to travel any further than 20 minutes from my house to be in a great squirrel hunting location. I am also a huge fan of squirrels as table fair.
Passing On The Passion
This year I am really looking forward to the first squirrel hunt of the year because both of my kids have expressed interest in going. Our son Charlie is now 7 and our daughter Ellie is 10 years old. I've been looking forward to taking them hunting for a very long time, and going after squirrels is a great way to introduce someone to the hunting experience.
Starting With Squirrels
There are several reasons why hunting squirrels is a great introductory activity. The weather is usually pleasant early in the season. You don't have to travel to find a good spot. It's also a relatively inexpensive type of hunting. All you really need to get started is some blaze orange clothing and a shotgun or .22 rifle. That's it, and you are all set.
After you've got the basic gear it's just a matter of finding some squirrels. One of my favorite hunting methods is to find an area with lots of acorns on the ground and then sit tight for 20-30 minutes and wait for a squirrel to move.
A lot of folks don't like hunting squirrels in the early season when the foliage is still on the trees and shrubs because you can't see very well. The flip side of early season hunting is that whenever a squirrel moves on a branch it shakes all the leaves and you can more easily zero-in on the squirrel.
Another great thing about squirrel hunting is that it's got a higher likelihood of success. And, even if the kids get bored or restless we can move around and mix things up. There are often mushrooms, berries and other things on the forest floor to help keep us from losing interest.
Processing The Harvest
After I shoot squirrels I like to skin them as quickly after the shot as possible and then place them in a 1-gallon freezer bag. Then when I get home I will separate the back legs from the rest of the body and then store them in the freezer separately. Once I get 5 or 6 in the freezer I'm ready to make a couple of different meals. The back legs have the most meat on them and make great buffalo drummies (check out my recipe for Buffalo Squirrel Legs). I save the rest of the body and front legs for soups and stews, or in this case for browning whole to make the tacos.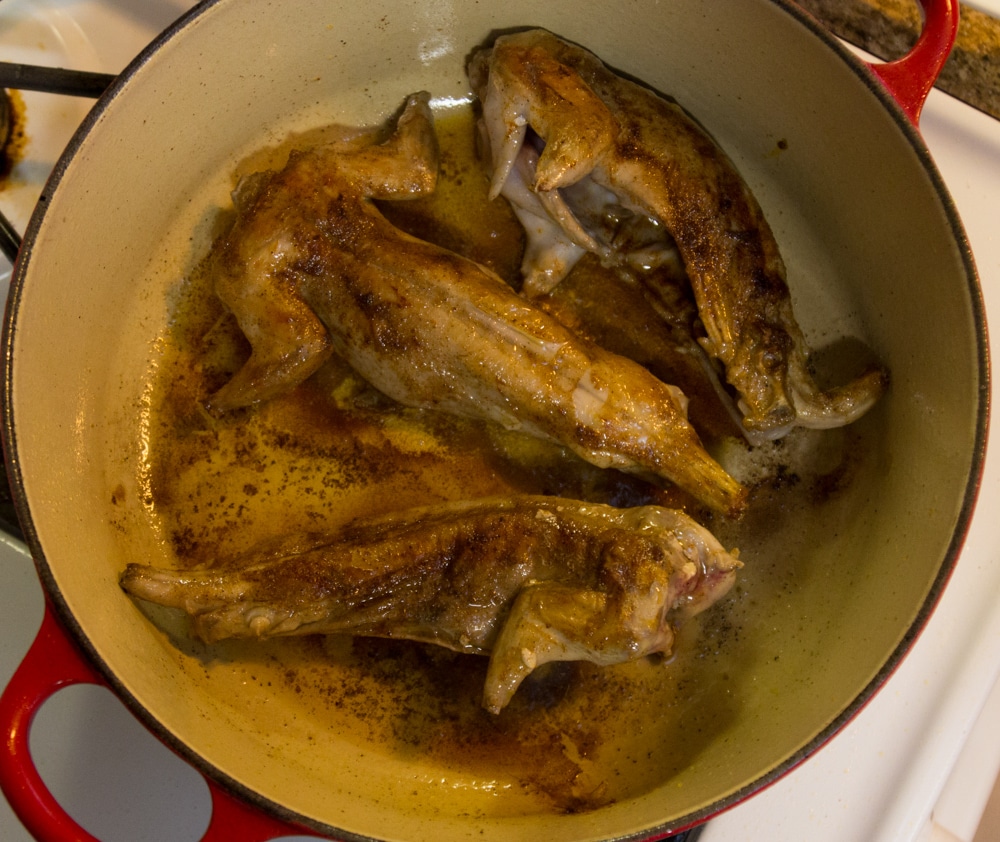 In the past I had mede a Pheasant Tinga with the legs of pheasants. So, I thought I would try it out with squirrel and make some squirrel tacos. I'm a firm believer that tacos are a great way to introduce people to new ingredients. People will be more receptive to trying a new thing, squirrel for example, if it's made into a familiar meal, like tacos.. Tinga is a Mexican dish traditionally made with shredded chicken in a sauce made from tomatoes, chipotles in adobo, and sliced onions. It is often served on a tostada and accompanied by a layer of refried beans.
Try out the recipe for Squirrel Tinga Tacos below and let me know what you think.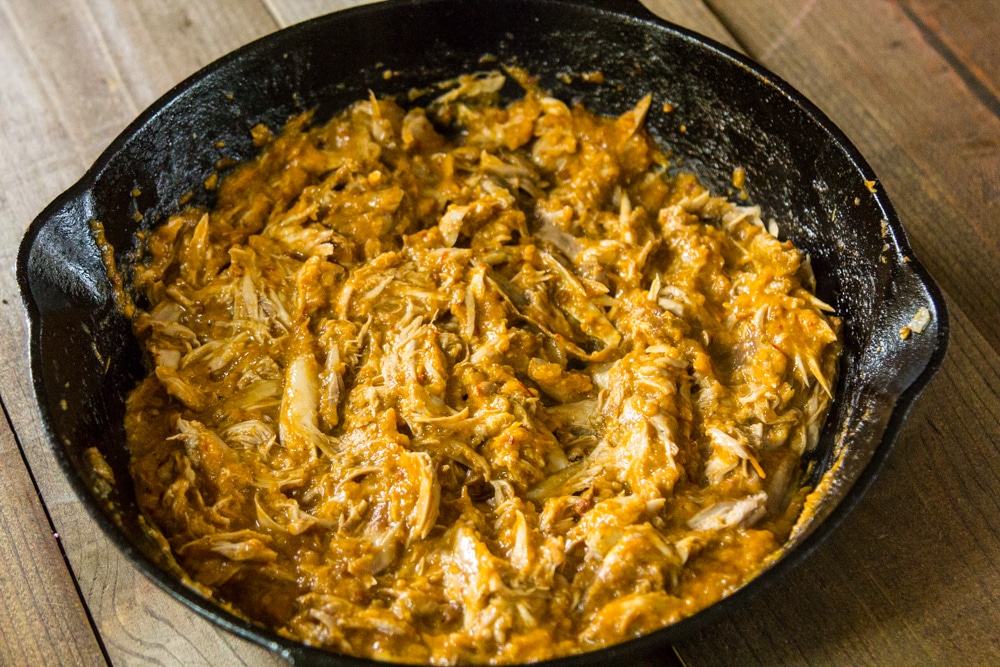 Squirrel Tinga Tacos Recipe
5 squirrels with the hind legs removed (or 3 whole squirrels)
Chicken stock to cover
2 tablespoon avocado oil
Salt
Season the squirrels with salt. In a heavy pot heat the oil and brown the squirrels. When the squirrels are browned on all sides cover them with the chicken stock. Reduce the heat to a simmer. Cover the pot and simmer for 45-60 minutes or until the meat on the squirrels is tender and falls off the bone. Remove the squirrels from the pot and let them cool. Once cool enough to handle pick all the meat of the bones and set aside.
For the Tinga
1 onion diced
2 cloves garlic roughly chopped
6 cherry tomatoes sliced in half
½ cup salsa verde
2-4 chipotles in adobo depending on how hot you want it. Also add a spoonful of the adobo sauce.
2 tablespoons avocado oil
Heat the oil in a medium sized sauté pan over medium high heat. Add the onion and garlic and cook for a couple of minutes until translucent. Add in the tomatoes, salsa Verde and chipotles. Cook for another 5 minutes stirring regularly. Turn off the heat and pour the mixture into a blender and puree. Combine the puree with the reserved squirrel meat using just enough to coat the meat.
To assemble your taco, spread some refried black beans on a corn tortilla and top with pepper jack cheese. Place a spoonful of tinga on the taco and top off with guacamole and cilantro.
Enjoy!