Wild Turkey and Wild Rice Soup
(Editor's Note: This recipe has a companion video that is part of the Learn To Hunt Turkeys course on Hunting Camp LIVE.)
In my last post, I turned wild turkey legs and thighs into out of this world Tamales. I will be the first to admit that tamales can be labor-intensive. With that in mind, I was thinking about some of the easier ways to use wild turkey leg and thigh portions.
One of my favorite recipes is for wild rice soup. It is one of the easiest things to make and can be made with almost any kind of meat. I have made this wild rice soup with pheasant legs, ducks, coots, crayfish, and even perch. All you need is about 2 cups of whatever meat you are using.
For the wild turkey version, I used one leg and one thigh portion off of a 22-pound bird. I placed the turkey into a crockpot with salt and pepper, three bay leaves and a head of garlic. I then covered the ingredients with stock. Wild turkey stock is ideal, but any store-bought chicken or turkey stock will work fine. Set your crockpot on low and check after 8-10 hours.
The turkey meat will be fall off the bone tender and you can pick through it to get out any bits of tendon or bone that might be hidden in the meat. That meat will be all you need for your soup.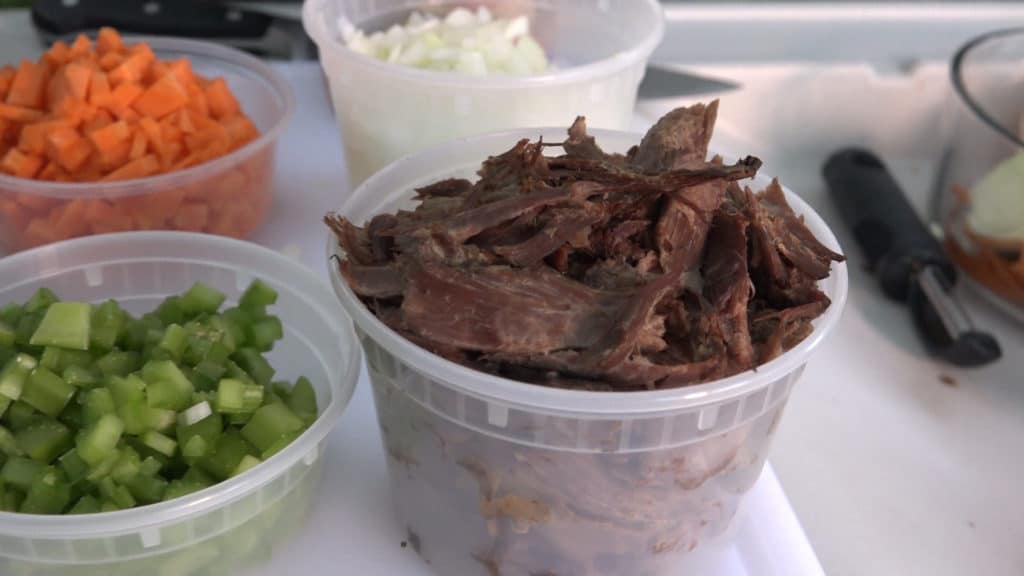 This whole soup is made in one pot and takes less than 20 minutes to cook once you have all the ingredients set up. It also yields a good amount of soup so you can freeze some for later use.
The end result is a creamy, hearty soup that will fill you up after a long day in the field. I like to serve mine with some crusty bread and good butter.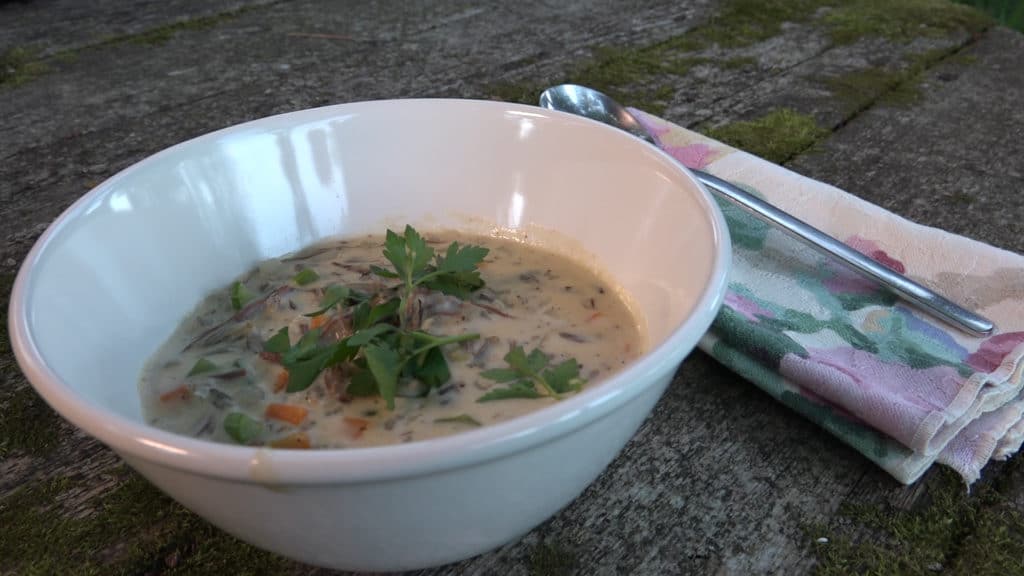 Wild Turkey and Wild Rice Soup
2 cups shredded wild turkey from the legs and thighs
2 cups cooked wild rice
1 yellow onion, finely diced
2 large carrots, finely diced
2 stalks of celery, finely diced
1 tsp dried thyme
3 tablespoons of unsalted butter
3 tablespoons of olive oil
1/3 of cup all-purpose flour
4 cups wild turkey stock or store-bought turkey or chicken stock
2 cups half-and-half
salt and pepper to taste
Heat a large pot or dutch oven over medium-high heat and add the butter and oil. Let the butter and oil come up to heat and then add the celery and carrots. Stir and cook for 2 minutes then add the onion. Season with salt and pepper and continue cooking for 3-5 minutes or until the celery and carrots are tender.
Stir in the flour until it absorbs all the butter and oil at this point you can add the stock. As you stir in the stock the soup will start to thicken. As the soup starts to thicken add the thyme and the turkey meat and wild rice. Bring up to a simmer and pour in the half and half. Continue to cook for 5-10 minutes until the soup has fully thickened. Taste the soup and add salt or pepper as needed. I personally like a lot of black pepper.
I am also a big fan of the celery and carrots so I will add more of those. If you want to add more or less that is up to you.
Watch Jamie make this recipe in video lesson #6 of the Learn To Hunt Turkeys course at Hunting Camp LIVE.
Turkey Hunting Camp 2021 – Modern Carnivore Podcast (Ep:026)