Wild Turkey Piccata
(Editor's Note: This recipe has a companion video that is part of the Learn To Hunt Turkeys course on Hunting Camp LIVE.)
Everybody should have a go-to recipe; one that is simple to prepare, versatile and will impress friends and family. A great example that fits all of those categories is a Piccata. Piccata is an Italian preparation consisting meat or fish that's been pounded into a thin cutlet. It is prepared with a pan sauce consisting of lemon, butter and capers.
I've used different versions of a piccata recipe to prepare pike, venison and all kinds of upland birds and turkeys. Traditionally Piccata is made with chicken or veal, but it is equally delicious with scallops and even thin pork medallions.
The Sauce
The pan sauce of a Piccata hits on all the right notes with fat and acid. The capers added at the end of cooking bring a briny bite that's balanced by the butter and the acid of the lemon juice. If you search for piccata recipes you'll find them all to be slightly different, but each will have the basics of butter, lemon and capers.
Ease Of Preparation
Another great advantage of Piccata is that once you've gathered your ingredients the whole cooking time can take less than ten minutes. In this version I use wild turkey breast that has been cut into slices about 3/4 of an inch thick. Cutlets are pounded flat to about 1/4 inch thickness and dredged in flour. Each cutlet is then fried in butter for a couple minutes on each side.
I'm a sucker for sauce and I make extra so that I can drag each bite through it and get the full flavor of the recipe. Any extra sauce is then soaked up with some good crusty bread. If you have wild turkey in the freezer you really can't go wrong with this recipe. Try it with grouse and pheasants, and if you really want a treat, try it with crappies.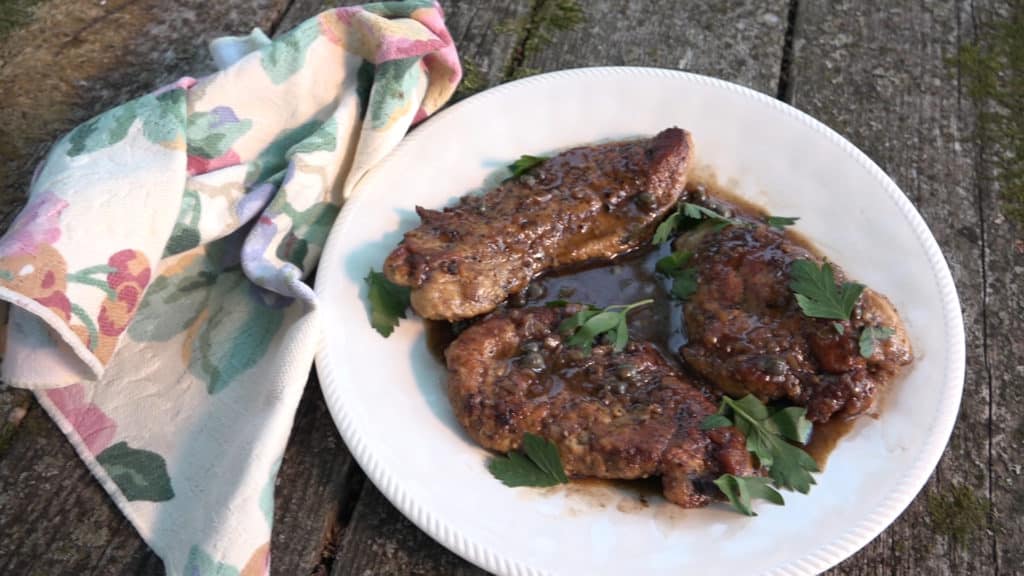 Wild Turkey Piccata
4 slices of wild turkey breast (sliced 3/4 of and inch thick and then pounded out to 1/4 inch thick)
Juice of one lemon
1/2 cup white wine
1/2 cup wild turkey stock (or store-bought chicken stock)
2 tablespoons minced shallot
2 tablespoons capers
6 tablespoons unsalted butter
Flour for dredging
Salt and pepper to taste.
Pound the turkey breasts out to 1/4 inch thickness. I like to use a one gallon zippered plastic bag. Place the breast cutlets in the bag and then hammer away. With the plastic bag you won't have any spray from the turkey that can spread all over your kitchen. Season each cutlet with salt and pepper then dredge in flour.
Heat 4 tablespoons of butter in a sauté pan over medium high heat until it's hot and almost smoking. Lay the cutlets in the butter and fry for 2 minutes on each side. Set the cutlets aside and add the shallots to the pan. Stir the shallots in the pan and cook for about a minute.  Add the white wine and deglaze the pan. Cook the wine down until it's almost evaporated. Pour in the chicken stock and the lemon juice and cook for 3-4 minutes. Place the turkey cutlets back in the pan and coat them with the sauce. Stir in the remaining 2 tablespoons of butter and the capers and stir until the sauce thickens slightly.  Taste the sauce and adjust seasoning with salt and pepper. Serve immediately, and enjoy!
Watch Jamie make this recipe in video lesson #6 of the Learn To Hunt Turkeys course at Hunting Camp LIVE.