Editor's Note: This is the second of three posts by Ryan Monaghan. Ryan is a commercial and editorial photographer who lives in New York City. In this series Ryan shares the experience of his very first turkey hunt. The beauty of his story is that it touches on so many of the foundational connections that hunting can reinforce: new adventure, great food and strong relationships. I hope you enjoy Ryan's story as much as I do. Go here to read Part 1. 
The Forecast Called for Steady Rain
…on opening day, so we hiked in the day before and set a pop-up blind in some trees on the edge of the field so we could stay dry. After brushing in the blind, we headed home to eat dinner and attempt to get some sleep.
Awakened by Anticipation
I'd already been awake for an hour when my alarm went off at 3:45 am. Soon we were caffeinated and dressed in camo, following the beams of our headlamps as we walked through the dark toward our blind. We set up the decoys and settled in, listening to the rain pelt the roof. I spotted movement far into the field just before first light. Five deer were moving cautiously into the field from the woods. Shortly afterwards my dad spotted what appeared to be some crows flying down into the field, but after getting the binoculars on them, we saw that they were turkeys that had come down from their roost. Soon six more deer joined the others, and when the wind betrayed our presence to them, they began to snort and trot off in various directions. Thankfully this didn't seem to spook the turkeys, who stuck around to feed. We called, and heard several gobblers respond around us. But the group in the field seemed content where they were.
Making Adjustments
When they fed across the field and out of sight, I repositioned our decoys to a more prominent position. About 15 minutes later the group returned, and we continued to call. They were closer this time, and through the binoculars I could see that they were a group of five jakes. We could see two of the jakes gobbling responses to my calls. It seemed like they wanted to come our way, but they soon disappeared into the woods. 
I took a sip of my coffee, wondering if I'd been too aggressive with my calling. Maybe I should have clucked more, and cut less.  A few minutes later, though, there he was. The jake had already closed to within twenty yards of the blind before I spotted him. I thought he was a lone tom at first, one we hadn't yet seen that morning. But then I saw the rest of his crew following his path about 10 yards behind him. By this time I'd excitedly alerted my dad to the turkey, as quietly and with as much restraint as I could muster.
Patience Pays Off
"Take him if you've got a shot." my dad whispered calmly, as only someone who's hunted turkeys for decades could do in such an adrenaline-fueled moment as this. I clicked off the safety, put the bead on the base of the jake's head, and squeezed the trigger.  The shotgun sent a wave of pellets toward the bird's vitals, and he flopped for several seconds in place while I chambered another round for a follow-up shot.  Thankfully it wasn't needed. The turkey became still. As the rest of the group rushed in to kick their former comrade while he was down, my dad raised his own shotgun, and I plugged my ears. A second loud report pierced the morning quiet, and just like that, we had both filled our turkey tags.
Culinary Plans
I'd joked with my dad for a few days that I wanted us to both be tagged-out by 9 am, on opening day, as I had big culinary plans that would ideally be suited to not one, but two turkeys. While you never expect success in the woods to come that quickly, I was delighted that we were both plucking birds by 11 am, and that they were brining in the refrigerator by noon. From everything I've read, the key to really succulent, flavorful wild turkey is to brine the meat for several days in a bath of water, Kosher salt, sugar, and lemon, with a few aromatics sprinkled in. Once the birds were parted out into breasts, legs, and wings, and brined,  into the fridge they went for a few days. We were going to eat very well on Sunday.
**********
Read Part 3 of Ryan's journey learning here. If you didn't yet read Part 1 of this series go here.
If you're interested in learning to hunt turkeys and want to take advantage of the final days of free access to our online course, go to www.huntingcamp.live.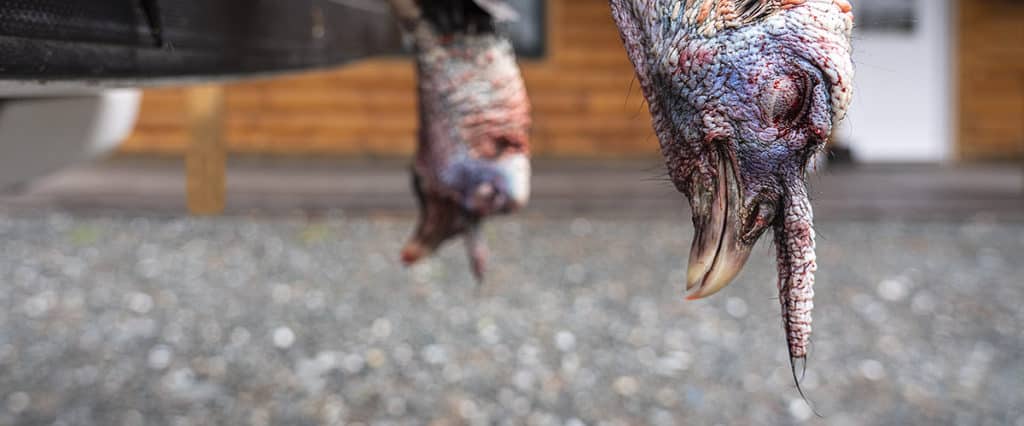 Turkey Hunting with Drew Goerlitz – Outdoor Feast Podcast (EP:007)
This content was funded in part through a grant provided by the Minnesota DNR. Learn more about DNR efforts to recruit, retain and reactivate hunters on their website.